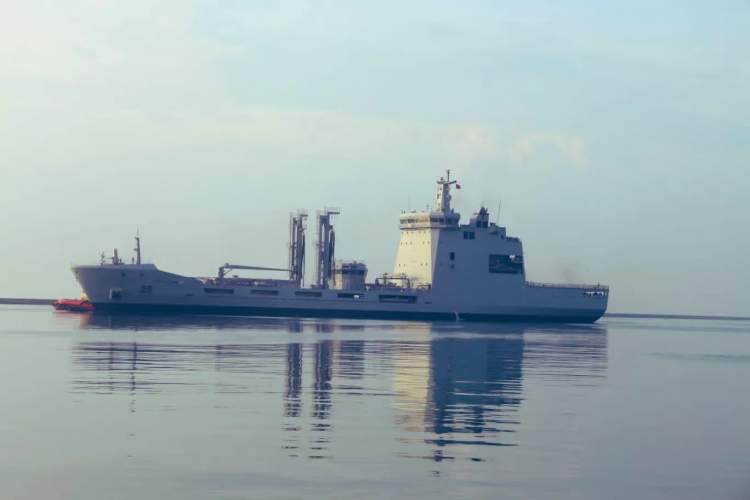 The Pakistan Navy Fleet Tanker PNS MOAWIN, built by STM for the Pakistan Navy, was dispatched to deliver humanitarian aid to Türkiye following the devastating earthquakes that struck on 6 February this year.
Pakistan Navy Fleet Tanker PNS MOAWIN (A39) left port in Pakistan on 11 March and arrived at Mersin Port on 23 March, where a ceremony was held to welcome the vessel and its cargo of humanitarian aid. Pakistan's National Day was also celebrated at the ceremony on 23 March.
Participating at the official celebration were representatives from STM who took the opportunity to visit the military officials aboard the ship.
Özgür Güleryüz, General Manager of STM said:
"Our Pakistani brothers, who stand by us in our most difficult times, delivered aid to Türkiye aboard PNS MOAWIN, which was the final product of the largest tonnage military shipbuilding project carried out by STM abroad to date on behalf of our country, with the contribution of Turkish engineers. We express our gratitude to the people of Pakistan."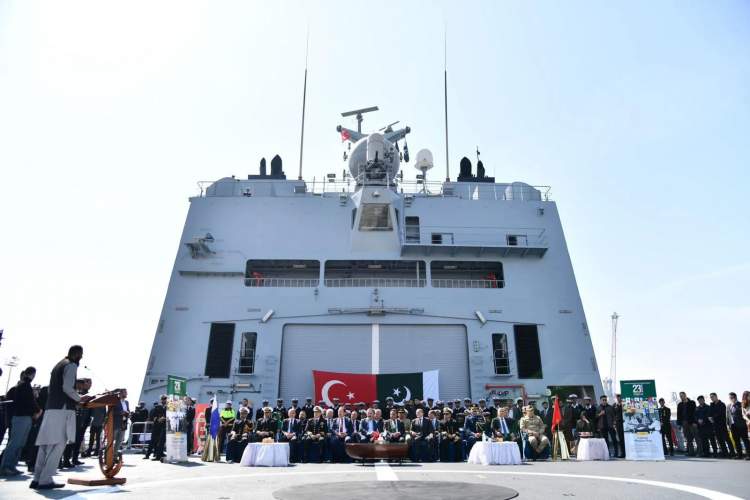 Pakistan Navy Fleet Tanker Project
The Pakistan Navy Fleet Tanker Project (PNFT) Agreement was signed on January 22, 2013 in Rawalpindi/Pakistan between the Pakistan Ministry of Defence Production and our company, which includes the design and construction of the Navy Fleet Tanker for the purpose of meeting the operational needs of Pakistan Navy.
As the main contractor of the PNFT project, our company was responsible for providing the ship design package and the material package including materials, devices and systems to be used in shipbuilding and equipment, and building the ship in Karachi Shipyard.
The vessel, which was designed in accordance with the classification rules for the purpose of replenishment at sea/logistics support at sea as solid and liquid cargo for Pakistan Navy ships in line with the needs and requests of the Pakistan Navy, has a weight of 15,600 tons, a length of approximately 155 metres and a maximum speed of 20 knots.
Pakistan Navy Fleet Tanker, one of the largest export projects of Turkiye on a platform basis, was launched on August 19, 2016 with a ceremony held in Karachi. After its equipment activities, it performed its first cruise on the Indian Ocean on March 31, 2018, took the name PNS MOAWIN and delivered to the Pakistan Navy on October 16, 2018.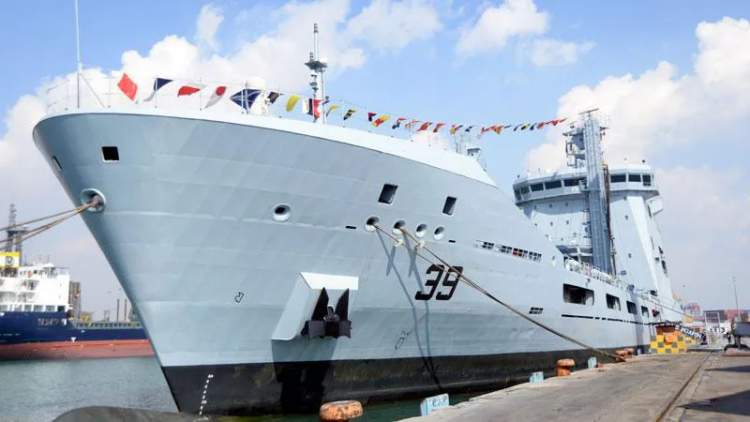 In addition, the following services have been provided by our company:
Integrated Logistics Support (ILS) and spare parts,
Maintenance, storage and user trainings for the crew and shipyard personnel
Technical support for ship building and outfitting to Karachi Shipyard.
Thanks to STM, approximately 20 Turkish companies were able to take part in the Pakistan Navy Fleet Tanker project, largely owing to the industrialisation experience our company has gained during the MİLGEM project. Thus, the project also created an opportunity to use the indigenous products of the Turkish defence industry and the shipbuilding industry and to expand Turkish companies abroad.