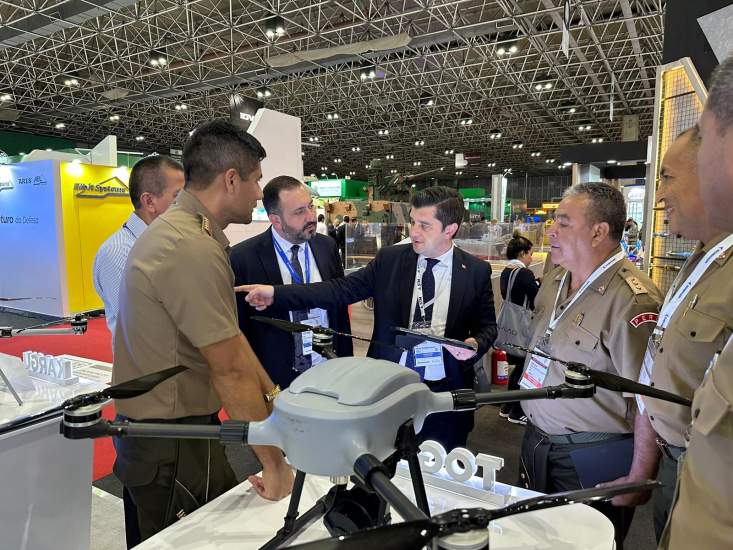 STM displayed engineering solutions in LAAD 2023 in Latin America.
STM, one of the leading companies in the Turkish defence industry, continues to exhibit its technologies and capabilities in different geographies.
STM was taken its place at the at Laad Defence & Security 2023 Exhibitons, one of South America's most important defence exhibitions, to exhibit its combat proven, ınnovator projects. The 13th edition of LAAD, the leading Latin American defense and security exhibition, was held in Riocentro, Rio de Janeiro between 11-14 April 2023.
STM introduced the Latin America region to Türkiye's first national frigate – the İstif (I)-Class Frigate – of which it is the main contractor, its STM500, a small-sized submarine designed using national resources, Multi Purpose Attack Craft STM MPAC, as well as tactical mini UAV systems ALPAGU, KARGU and TOGAN.
At its stand, STM hosted high-level military delegations from many different countries and engaged in productive meetings about the projects.
STM is engaged in collaborations, technology transfer projects and business development activities in more than 20 countries, from South America to the Far East. As part of its design, construction and modernisation activities, STM produces flexible indigenous engineering solutions for the surface and submarine platforms of Türkiye, a NATO member with one of the most active navies in the world, and for the navies of friendly and allied nations, to address specific needs and ensure more effective mission performance.
The attack and surveillance UAV systems developed by STM using its own engineering and technological capabilities are being used to full effect by the Turkish Armed Forces (TAF) for the provision of border security, as well as in international operations, while KARGU is performing effectively in the countries to which it has been exported.