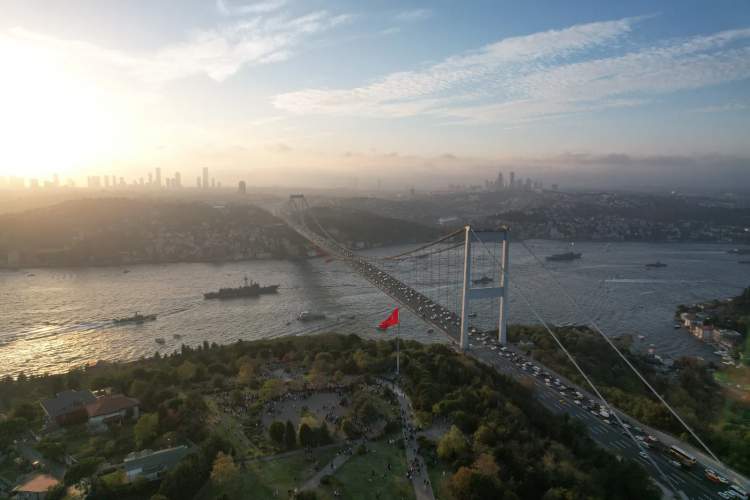 The Turkish Navy has held the largest official parade in its history, deploying 100 ships to the Bosporus to mark the 100th anniversary of the Republic of Türkiye. Taking part in this breathtaking display were a number of surface and submarine platforms produced by STM, Turkey's leading company in the field of naval platforms.
STM, which continues to represent Türkiye in the global naval projects market with great success, and to supply the Turkish Navy with modern and national systems, left its mark on this largest ever parade of the Turkish Navy with the warships it has produced.
TCG İSTANBUL (F-515), Türkiye's first national frigate (I-Class), the construction of which was completed with STM in the role of main contractor, which it was watched with great interest by thousands of spectators who lined either side of the Bosporus for the ceremony held on October 29.
Built at Istanbul Naval Shipyard Command, TCG İSTANBUL will be delivered to the Turkish Naval Forces in the last quarter of 2023 after the completion of the test programme.
Also introduced to the public at the event were the Navy's MİLGEM Ada-Class corvettes. The Turkish Naval Forces are making active use of the four MILGEM Ada-Class Corvettes manufactured under a project in which STM was the lead subcontractor, undertaking various crucial tasks.
The gathered onlookers also had the chance to see the TCG YZB GÜNGÖR DURMUŞ (A-574) Logistics Support Ship, which was commissioned to increase the supply and logistics capabilities of the Turkish Naval Forces and was delivered to the Navy by STM in 2022.
Modern Submarines in the Bosporus
Submarine projects involving STM, Türkiye's leading company in submarine design, construction and modernisation, made their way "quietly and deeply" through the Bosporus during the official parade.
TCG PİRİREİS, the first of the Reis-Class submarines to be equipped with an air-independent propulsion system (AIP) took part in the historic ceremony as Türkiye's most modern submarine platform.
STM has undertaken the production of critical systems for the Reis-Class (Type 214) submarines in Türkiye under the New Type Submarine Project (YTDP), including "Section 50" – the part of the bow section the submarine's torpedo tubes – and is now serving as a subcontractor in this project.
Also presented to the delight of the gathered crowds were Preveze-Class submarines (Type 209/1400)– the modernisation of which will be completed with a project in which STM took part as a pilot partner; Gür-Class submarines, the combat management systems of which will be integrated by STM; and Ay-Class (Type 209/1200) submarines, which were the outcome of Türkiye's first civilian submarine modernisation project in which STM acted as the main contractor.