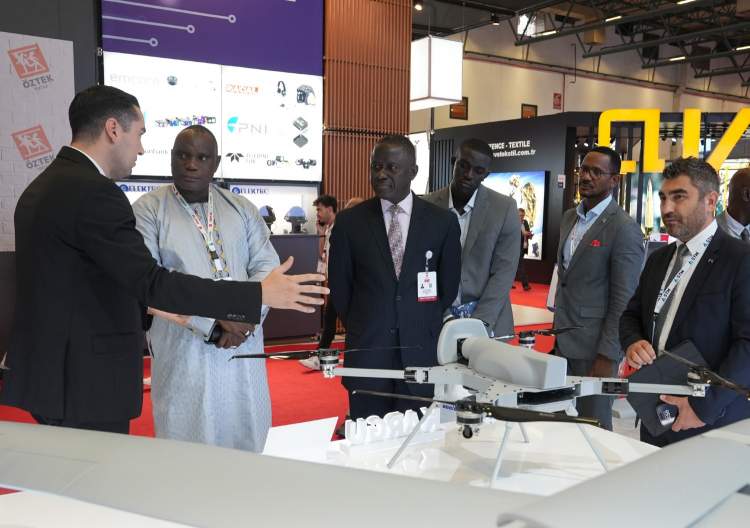 STM, one of the leading Turkish defense sector companies, is poised to unveil its maritime marvels and cutting-edge tactical mini-UAV systems during the IMDEC 2023 event in Ghana.
STM Savunma Teknolojileri Mühendislik ve Ticaret A.Ş., has been a driving force behind Turkey's remarkable advancements in defense, spotlighting its prowess in naval platforms, tactical mini-UAV systems, and cybersecurity solutions. STM is set to take part in the 3rd International Maritime Defense Exhibition and Conference (IMDEC), one of the most significant defense exhibitions in Africa, showcasing its exceptional naval engineering projects and tactical mini-UAV systems to event attendees.
KARGU Takes the Stage in Africa!
Among STM's lineup of tactical mini-UAV systems, the spotlight shines on Combat Proven Rotary Wing Loitering Munition System KARGU. With a global footprint spanning nearly 10 nations across three continents, KARGU takes center stage at the STM exhibition booth. Attendees will also have the opportunity to witness the Fixed Wing Loitering Munition System ALPAGU.
Adding to the showcase, the Multi-Rotor UAS for Tactical Surveillance and Reconnaissance System TOGAN stands proudly in the arsenal of the Turkish Armed Forces (TAF). TOGAN made its first export to a country in Africa in 2023.
Naval Projects Will be Displayed at IMDEC 2023!
STM serves as a beacon for naval forces across the globe, from Pakistan to Ukraine, favored for its focus on cost-efficiency, unwavering technical support, and knowledge exchange in every endeavor. On a grand scale, STM's contribution to the Pakistan Navy includes the Fleet Tanker PNS MOAWIN. Progressing as the lead contractor for Pakistan's Agosta 90B Khalid-Class submarine modernization, STM has completed the upgrade of two submarines, with the third currently undergoing enhancement.
The Turkish Naval Forces are making active use of the four MILGEM Ada-Class Corvettes manufactured under a project in which STM was the lead subcontractor, undertaking various crucial tasks. Furthermore, STM has designed and is the lead contractor in the construction of TCG ISTANBUL – Türkiye's first national frigate – and is continuing in its efforts to deliver the ship in 2023 with.
STM pioneers the creation of modern and adaptable offshore patrol vessels, exemplified by the OPV-2100. This monohull marvel is engineered to excel in maritime patrol, surface warfare, and law enforcement duties even in challenging sea conditions, meticulously crafted in alignment with naval norms and classification rules."
STM IMDEC-2023 Stand Information
Booth No: 6
Date: 29–30 August, 2023
Venue: Burma Hall, Ghana Armed Forces Headquarters – Accra, GHANA