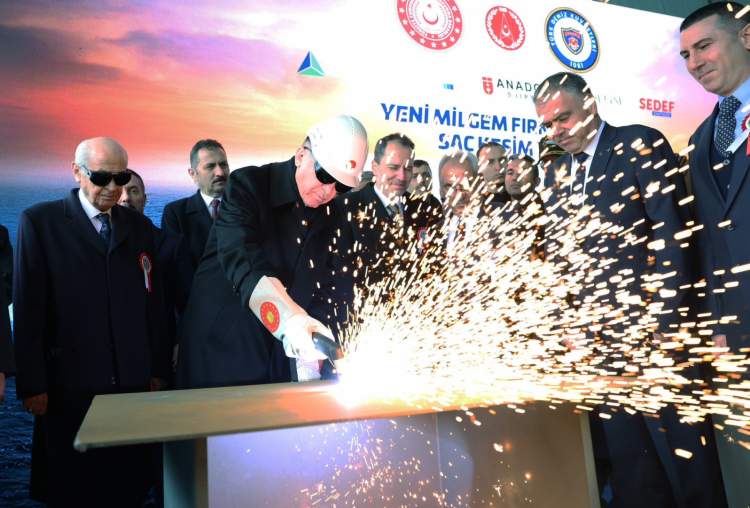 President, Mr. Recep Tayyip Erdoğan, has performed the steel cutting ceremony for the construction of 3 new MİLGEM İ-Class Frigates in partnership with STM-TAIS National frigates will be constructed concurrently across 3 private shipyards, ensuring timely delivery within 36 months
Steel cutting ceremony of three national frigates (TCG İZMİR, TCG İÇEL and TCG İZMIT) to be built in the STM-TAİS OG Joint Venture within the scope of the MİLGEM ISTIF (I) Class Project and the delivery ceremony of the TCG ANADOLU to the Naval Forces Command on April 10, 2023. was held in Istanbul Sedef Shipyard. The ceremony was attended by President Erdoğan, Minister of National Defense Hulusi Akar, TAF Command, SSB President İsmail Demir, STM General Manager Özgür Güleryüz and guests attended.
Erdoğan: A Project That Has No Precedent İn The World
President Recep Tayyip Erdoğan delivered a speech at the delivery ceremony of TCG Anadolu and steel cutting ceremony of the new MİLGEM frigates in Istanbul. "Today, we are cutting steel for the 6th, 7th and 8th ships of the MİLGEM İSTİF-Class frigates and starting their construction. The target of constructing three ships simultaneously at a private shipyard and delivering them to our Naval Forces in a period of approximately 36 months is a project that has no precedent in the world," President Erdoğan said.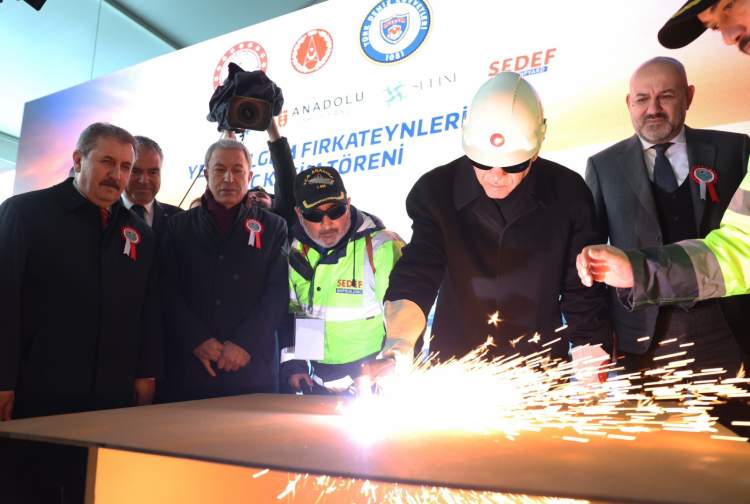 The Three Ships Will Be Equipped With National and Modern Solutions
The Anadolu, Sedef and Sefine shipyards will each build one İSTİF-Class Frigate within 36 months as part of the project being carried out by the STM-TAİS JV. The İSTİF-Class Frigates, the sensor and weapon systems of which have been developed domestically, will also be equipped with national air defence capabilities. In addition, we will be continuing our domestic production efforts for other systems, such as the bow gun, the helicopter haul-down and rapid securing device, and various components of the Main Propulsion System.
The three ships will be equipped with national solutions such as Gökdeniz, a close-in air defence system; Cenk-S, a three-dimensional search radar; Scorpion, a fire control radar, illuminating radar, torpedo tube; MIDLAS, a National Vertical Launch System; and national solutions such as Hisar-D. Accordingly, the rate of domestically manufactured systems and subsystems to be installed on the ships will increase even further.
STM is the main contractor of TCG İSTANBUL – the first İSTİF-Class ship, and Türkiye's first national frigate. TCG İSTANBUL will be delivered in the last quarter of 2023.
MİLGEM İSTİF-Class Frigates
The MİLGEM İSTİF-Class Frigate, which has many features that differ from the ADA-Class corvettes in terms of structure- and configuration, is of critical importance for the Turkish defence sector, as most of its weapon electronic systems will be domestically designed and manufactured. The İSTİF-Class Frigates stand out for their capabilities in underwater,surface warfare roles and in air defence, but also in outpost, reconnaissance, surveillance, target detection, identification, recognition and early warning missions. The first national frigates, the length of which have been extended by 10 meters due to changes in the configuration and additions to the weapon systems employed in the ADA-Class ships, have a displacement of 3,100 tons, a length of 113 meters and a beam of 14.4 meters. MİLGEM İSTİF-Class Frigates especially differ from ADA-Class corvettes in terms of their guided air-defence and surface–to-surface missile payloads along with complex sensors and EW Systems (RF and IR).