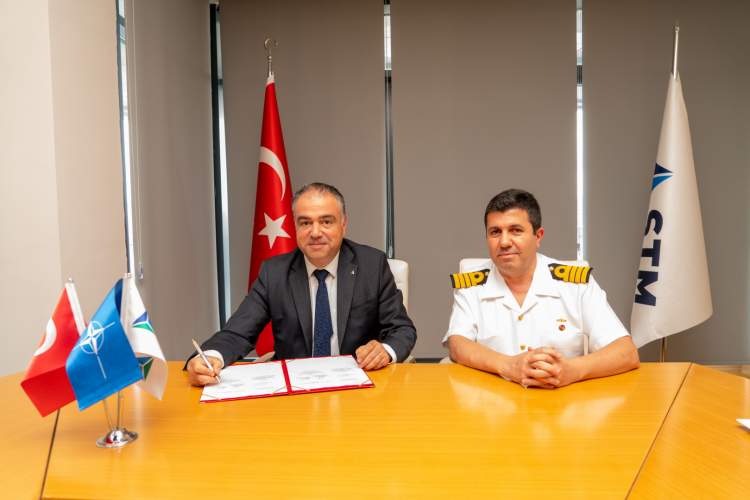 NATO Maritime Security Centre of Excellence and STM have signed a Goodwill Protocol for future collaborations in maritime security.
Carrying out significant projects in the fields of engineering, technology, and consultancy under the leadership of Defence Industry Agency (SSB), STM Savunma Teknolojileri Mühendislik ve Ticaret A.Ş. has entered into another significant collaboration with the signing of a Goodwill Protocol with the NATO Maritime Security Centre of Excellence (MARSEC COE). STM General Manager Özgür Güleryüz and MARSEC COE Director Navy Captain Sümer Kayser attended the ceremony on 29 June at the STM Headquarters.
In accordance with the signed protocol, STM and NATO MARSEC COE pledge to work together on various projects in the field of maritime security. In this framework, the involvement of STM ThinkTech, which is Türkiye's first technology-based think tank, is planned. STM ThinkTech with its competent manpower and know-how, will provide innovative solutions to NATO MARSEC COE via modelling, simulation, and decision support systems.
Özgür Güleryüz, stated that "Since 2019, STM ThinkTech, as NATO's solution partner, has been providing state of the art strategic level decision support systems for NATO's resilience domain. We are excited to be entering into this new cooperation with the NATO Maritime Security Centre of Excellence, as well. We will continue to provide our genuine engineering solutions to distinguished institutions such as NATO."
STM: NATO's choice
STM ThinkTech has provided a wide range of consultancy services to public and private organistions and has previously exported decision support systems to NATO. The NATO Aggregated Resilience  Decision Support Model developed by STM ThinkTech supports NATO's decision-making processes in the face of strategic shocks such as pandemics, large-scale power outages, cyber attacks, and big human movements.
STM, which also carries out projects for NATO in the field of command and control, has successfully completed the NATO Integration Core (INT-CORE) Project, ensuring the provision of significant support to situational awareness across the battlefield. INT-CORE provides accurate information to decision makers at the right time, and incorporates command and control work processes that can support the distribution of information on command and control, joint picture, battlefield, missions, etc.