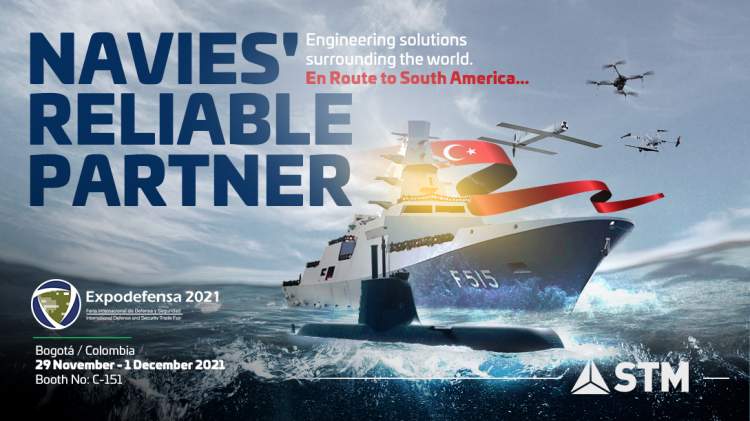 As a supplier of state-of-the-art warships to the Turkish Armed Forces  the second largest army in NATO as well as the navies of friendly and allied nations, STM will be exhibiting its military naval platforms and tactical mini-UAV systems in Colombia at the Expodefensa 2021 fair.
We continue to share the experience we have accumulated in addressing Turkey's needs through critical solutions, primarily in naval platforms, but also in the tactical mini UAV system and cybersecurity fields, with friendly and allied nations through cooperation and technology transfer.
STM's Naval Projects Beyond Borders
Under the leadership of our parent institution, the Presidency of Defence Industries (SSB), we will be attending Expodefensa 2021 to share our experience in projects in which we are proud to have participated as a trusted solution partner of various world navies, including Pakistan and Ukraine.
We will be introducing our tactical mini UAV product family (Alpagu, Kargu and Togan) to South America, along with the MiLGEM Ada Class Corvette, and to the close attention of many countries, as well as the I-Class Frigate the outcome of Turkey's first national frigate project. The CF3500 Frigate, which we have designed in the form of a MiLGEM boat for the Colombian Navy, will also be on display.
The systems that continue to be used successfully in the field by Turkish Navy, are brought overseas as quality, affordable and modern engineering solutions. We make a difference also with our long-term service support and indigenously developed weapon systems, rendering our products and capabilities available to national navies even in the presence of embargoes.
At Expodefensa 2021, one of the most important defence industry fairs in Latin America and the Caribbean we will be welcoming fair visitors at stand number C-151.
STM Expodefensa 2021 Stand Information
Stand: C-151
Expodefensa 2021 Fair Information
Date: 29 November–1 December 2021
Venue: Corferias, Bogota Colombia