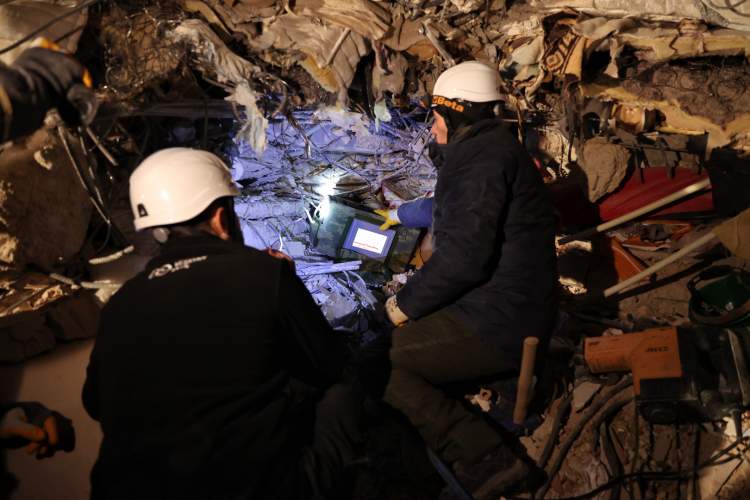 Through The Wall Radar (DAR) device developed by STM played an active role in the search and rescue operations 0in the quake-stricken area, contributing to the rescue of more than 50 people from the earthquake rubble.
STM Defence Technologies Engineering, a leading company in the Turkish defence sector, leapt into action after two earthquakes, measuring 7.7 and 7.6 on the Richter scale, caused devastation in 11 provinces in Turkey. STM played an active role in the earthquake region with both its domestically-developed technologies and manpower.
The Through-the-Wall (DAR) Radar developed by STM using national capabilities helped save the lives of dozens of people who were pulled out of the rubble in Hatay, one of the provinces affected most by the earthquakes. Two expert teams from STM equipped with DAR's participated in the search and rescue operations in Hatay. The DAR teams searched for any human activity beneath the rubble and notified their locations to the search and rescue teams. As a result, more than 50 people, including infants, children and women, were rescued.
Yusuf Hayırlı, a senior technician at STM, said that they had assisted the search and rescue teams by providing data on directions and distances, stating:
"We observed in this earthquake-stricken region that our defence technologies and engineering were of crucial importance to our country. We assisted in locating people or animals trapped behind walls by detecting their breathing or the movement of extremities. Upon detecting a person, we provided directions to the rescue teams such as 'three metres ahead, two metres to the right'. Our teams also listened out for voices and carried out their investigations in that direction if we heard a person speaking. We are continuing to work in coordination with the rescue teams. We saw a 7-month-old baby being pulled out of the rubble. Our joy was beyond words."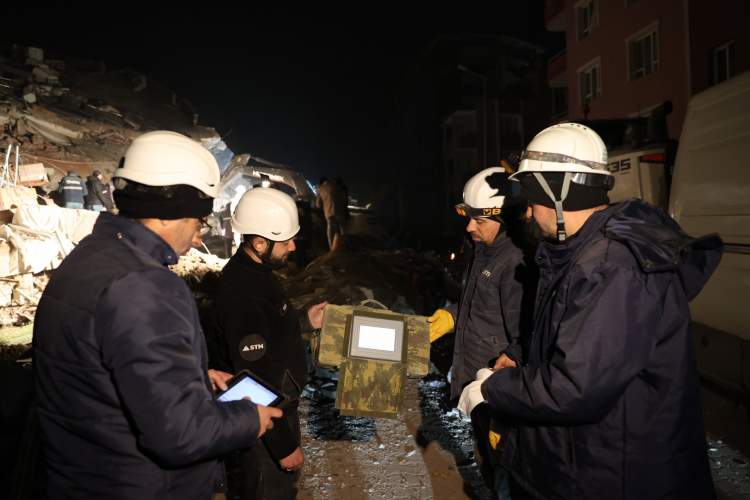 UAVs Fly Over the Disaster Zone
STM's tactical mini-UAV systems, equipped with thermal cameras and operated by flight engineers and technicians, took part in the operations in the disaster-hit areas as part of search and rescue operations. The UAVs surveyed collapsed or heavily damaged buildings, and others that had not suffered any damage, and transmitted their recorded images to the search and rescue centres.
Computer Vision and Artificial Intelligence Engineers at Work
Fourteen engineers from STM supported the search and rescue efforts by processing images. The level of damage suffered by buildings was determined and reported based on comparisons of pre-earthquake and post-earthquake images using computer visualization techniques and algorithms.
Support for the Fight Against Cyber Crime
After the earthquake, STM Cyber Security experts identified websites that had been set up to misappropriate donations to those in need, and reported their findings to the National Cyber Incidents Response Centre.
STM Search and Rescue Teams Dispatched to the Region
In addition to engineering and technology teams, three teams of STM employees who volunteered to join the search and rescue efforts were sent to areas hit by the earthquake. The search and rescue teams actively participated in the search and rescue efforts in Malatya, Hatay and Kahramanmaraş.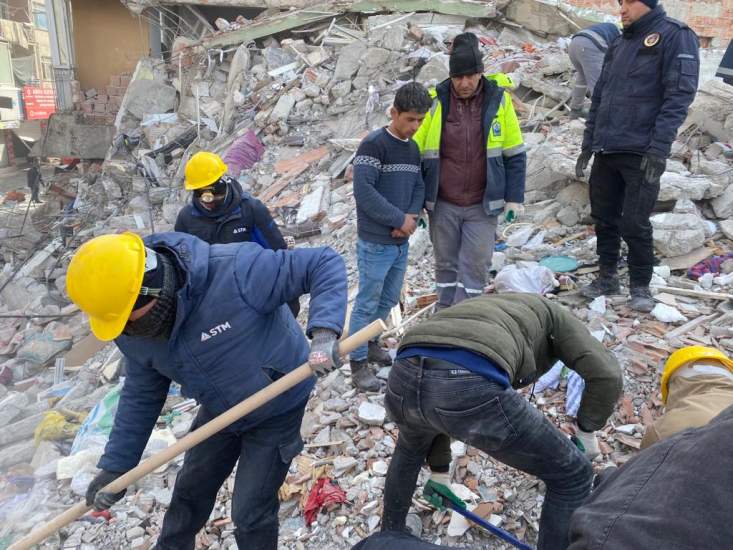 Aid Trucks Arrive in the Quake-hit Region
Two truckloads of relief materials have been transported to the quake-hit region and distributed as part of the STM's aid campaign.  In addition, 100 generators, 43,200 cans of food, 3,600 blankets, 700 power banks, 5,500 items of winter clothing and 4,800 nappies have been distributed. STM has donated funds to AFAD and its employees have donated blood to the Turkish Red Crescent.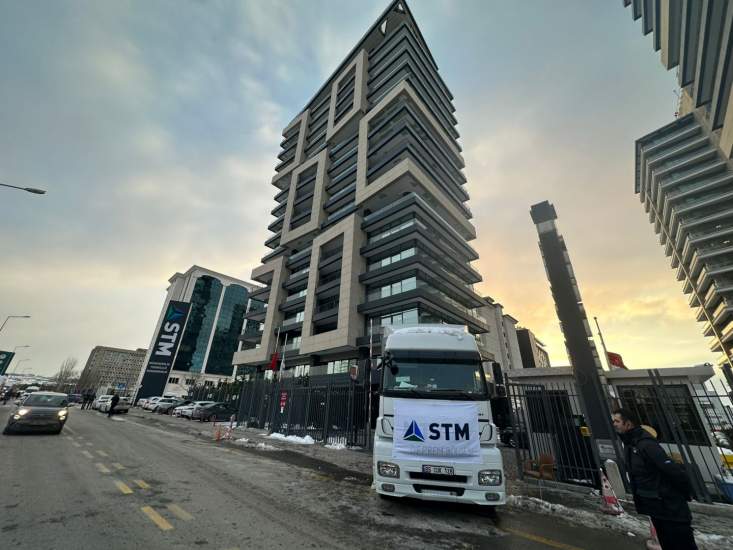 A group of STM employees supported the AFAD Search and Rescue Teams in the region, while other STM employees took part in activities related to logistics, accommodation and nutritional needs. STM set up tents and a field kitchen in Kahramanmaraş for survivors, providing also logistics and coordination services, and installed a field kitchen for a tent city accommodating 300 survivors that has been established in Pazarcık.