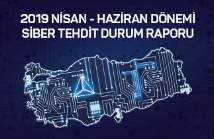 Our new Cyber Threat Status Report, covering the period October–December 2019, states that cyber-attacks will continue to increase in 2020, and warns that the health sector may be the most affected.
Our report states that cyber criminals are using imitations of the e-Devlet application, which is frequently used by Turkish citizens, to target the public, stating that the most noteworthy and threatening attacks in the fake applications category over the last quarter have taken the form of a malware that imitates the "e-Devlet" application, through which almost every citizen accesses their personal information.
The report states that the number of fake applications is increasing gradually, and that aside from e-Devlet, a malware that imitates both Chrome – one of the most popular browsers – and "E-Book Reader", a popular electronic book reading application – is threatening many users.   
In addition to these issues, the report also details various events that occurred in 2019, including the sale of more than 455,000 card details on the "dark web"; the Mirai malware, which poses a threat to modems as well as IoT (Internet of Things) devices; and the leakage of sensitive and personal data. Finally, our report underlines the role and importance of our STM CTF (Capture The Flag) contest, which was held for the 5th time this year to raise awareness of cybersecurity, and to contribute to the training of qualified human resources.
You can access our report on the ThinkTech website using the following link: