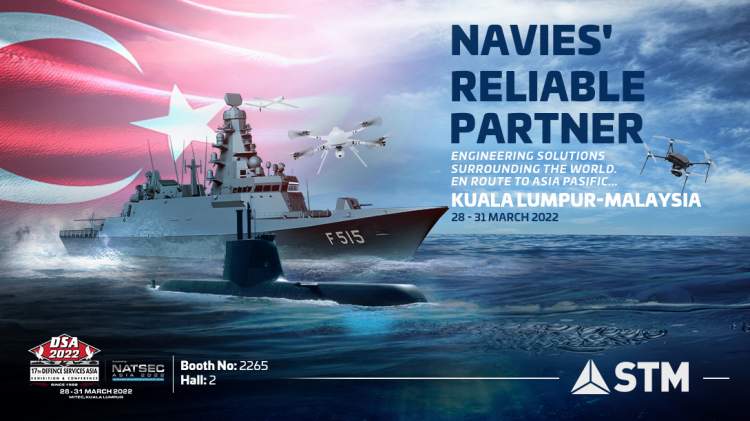 As STM, we will participate in DSA 2022, where the world's most advanced defence technologies will be exhibited globally, with our high technology-oriented engineering solutions between 28-31 March 2022.
Our company, which makes significant contributions to the Turkish defense industry, will exhibit its naval projects and tactical mini-UAV systems with at DSA 2022, one of the biggest exhibitions in Asia.
DSA 2022, which will presents the most important projects and products of the defense industry worldwide, will be held at the Malaysia International Trade and Exhibition Center in Kuala Lumpur, Malaysia's capital city.
STM's Technology Oriented Engineering Projects at DSA 2022
Our company, offering high technology-oriented engineering solutions will presents its naval projects and tactical mini-UAV systems to its visitors at 17th DSA 2022.
As STM, we will showcase Turkey's first national frigate (I) Class Frigate, the MİLGEM Ada Class Corvette, the Coast Guard Ship CG-3100, and our tactical mini-UAV systems ALPAGU, KARGU and TOGAN to Asia Pacific countries at the DSA 2022.
Our tactical mini UAV systems, which we have developed with our pioneering engineering and technology capabilities, are effectively used by the Turkish Armed Forces in border security, including cross-border operations.
The systems that continue to be used successfully in the field by Turkish Navy, are brought overseas as quality, affordable and modern engineering solutions. We make a difference also with our long-term service support and indigenously developed weapon systems, rendering our products and capabilities available to national navies even in the presence of embargoes.
You can visit our booth at the exhibition center to get information about our company and our projects which increase Turkey's competitiveness in the international arena.
STM DSA 2022 Booth Information
Booth No: 2265
Hall: 2
Date: March 28–31, 2022
Venue: Kuala Lumpur-Malaysia