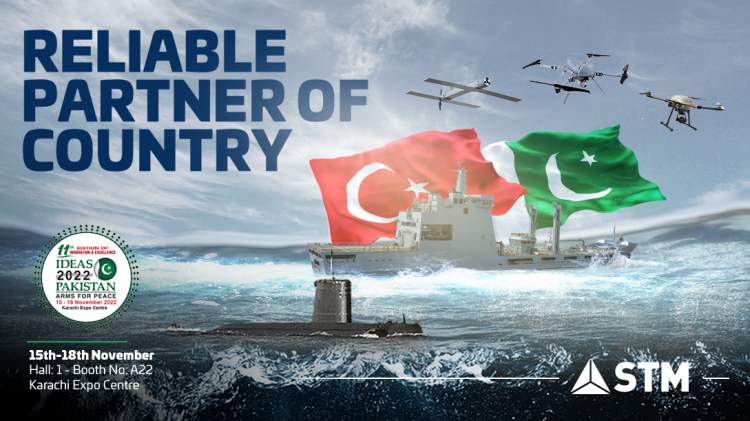 STM, one of the leading companies in the Turkish defence industry, continues to exhibit its technologies and capabilities in different geographies. STM will take its place at the International Defence Exhibition and Seminar IDEAS, one of South Asia's most important defence exhibitions, to exhibit its combat proven, ınnovator projects.
STM500 Submarine Will Be Exhibited in Pakistan
At IDEAS 2022, STM will present the I Class Frigate, Pakistan Navy Fleet Tanker (PNFT), and STM500, a small-sized submarine designed with national engineering skills, to the participants of the exhibition. The STM500, designed with national capabilities to meet tactical needs such as reconnaissance surveillance, special forces operations, and undersea warfare, will thus meet with South Asia.
Tactical Mini UAV Systems
In addition to the naval projects developed by STM, tactical mini UAV systems will also be exhibited at the STM stand at IDEAS 2022. Producing world-leading and competitive technologies in the field of tactical mini-UAV systems, STM will bring together Turkey's first mini-attack UAV KARGU, national scout TOGAN, and fixed-wing strike UAV system ALPAGU with visitors at the International Defence Exhibition and Seminar IDEAS.
Özgür Güleryüz, General Manager of STM, expressed his excitement at the exhibition of innovative and indigenous platforms at IDEAS: "As STM, we carry out cooperation, export, and business development activities in more than 20 countries from South America to the Far East with our national engineering solutions. While equipping the Turkish Navy and security forces with innovative and national systems, we share our experience and engineering capabilities with friendly and brotherly countries.
We have carried out a number of major projects in Pakistan, which we consider a friendly and allied nation. STM built and delivered PNFT MOAWIN, Navy Fleet Tanker designed for the Pakistani Navy, in Karachi, Pakistan in 2018 as part of a project aimed at building a military ship with the biggest tonnage abroad. In addition, we are continuing with the modernisation of Pakistan's Agosta-Class 90B submarines.  We have already delivered the first submarine under the project, while the modernisation of two remaining submarines is continuing. This is STM's first time acting as the prime contractor in a submarine modernisation project being conducted in a foreign country.  Building upon these projects that we are successfully carrying out, we are now taking part in a project for the production of four Ada-Class Corvettes for Pakistan in which we are applying our engineering capabilities to the supply and integration of the main propulsion systems. We are keen to launch new collaborative projects and joint efforts to further enhance Pakistan's defence capabilities.
As is the case with naval platforms, we are open to technology transfer and the joint production, development and sale of tactical mini-UAV systems to friendly and allied nations. We want to continue our work with Pakistan in the naval field, which has been continuing for years, with attack and surveillance drones. We are looking forward to displaying our innovative national platforms at IDEAS."
STM will be exhibiting its military naval platforms and tactical mini UAV systems in Hall 1, Stand A22 at the International Defence Exhibition and Seminar IDEAS, which will be held between November 15-18 at the Karachi Expo Centre in Karachi, Pakistan.